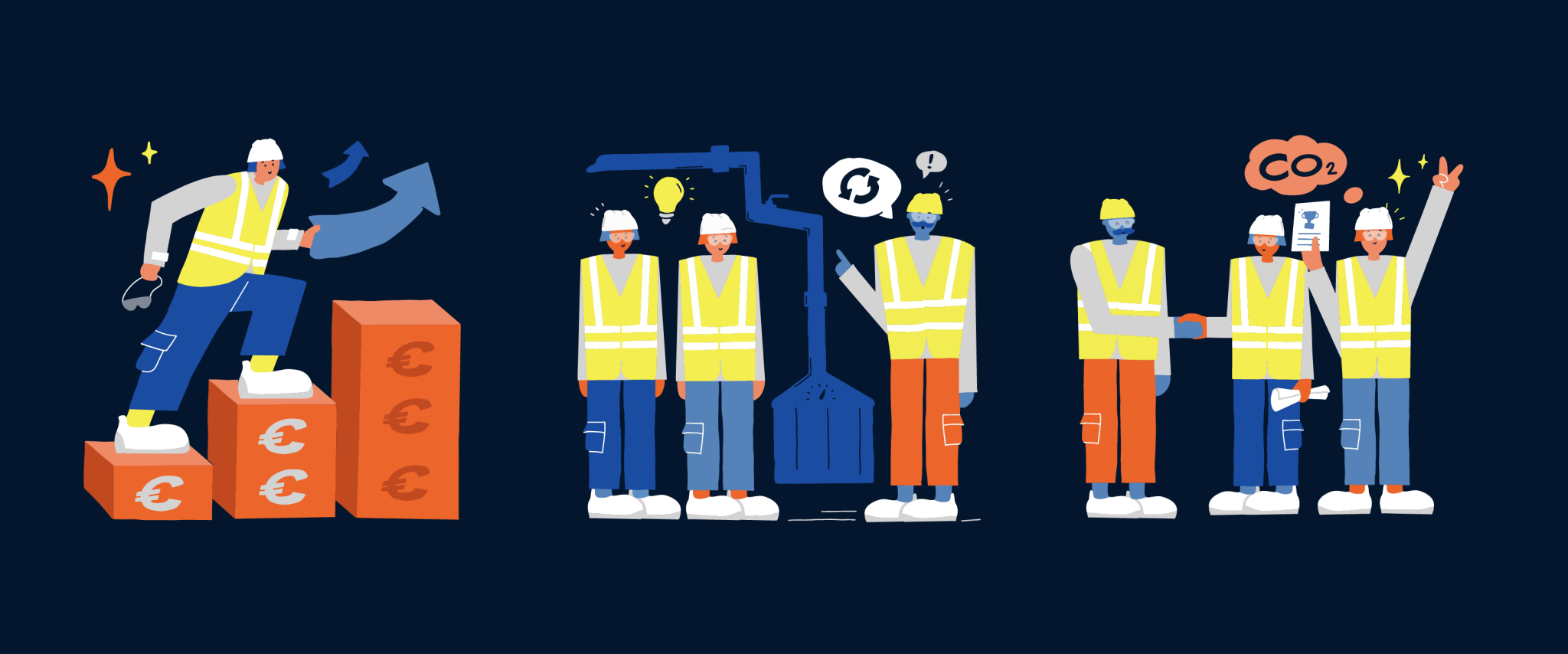 Apprenticeship Model
The chemical industry aims to provide young individuals with multiple pathways to engage in world-changing work. Starting from the spring of 2023, aspiring to become a top expert in the chemical industry has been achievable through an apprenticeship model, which allows for on-the-job learning within companies, including those who are under 18 years of age. This apprenticeship model has been developed in collaboration with companies, employer and employee organizations, and educational institutions.
Study for a profession through an apprenticeship program for 16–20-year-olds and earn while you learn
The apprenticeship model enables on-the-job learning within companies for individuals under 20 years of age. In the chemical industry's apprenticeship model, a novel feature is the pay structure, where wages increase based on the progress of studies and successful completion of practical assessments. You get to apply what you've learned in school to real-world situations, and your pay increases as your skills grow.
Workplace instructors guide and support your development into a future expert.
In the workplace, the student is guided by a designated workplace instructor, whose task is to prepare the student for the professional world. In the new apprenticeship model, partner companies commit to providing support and imparting the concrete knowledge and skills that are required in companies now and in the future.
Getting your foot in the door of a responsible industrial company during your studies.
The apprenticeship model opens doors to the professional world. The first year of studies is completed at the educational institution, while the second and third years are spent closely integrated within a company. During this time, the student is in an employment relationship with the partner company and is a full-fledged member of the work community, receiving compensation for their work.
How to Apply for Vocational Training through Apprenticeship Model
In the pilot phase of the new apprenticeship model, four significant companies in the chemical industry are involved across various locations in Finland: Neste (Porvoo Refinery), Nokian Renkaat (Nokia), Kemira (Oulu), and Umicore (Kokkola). These companies collaborate with local secondary-level educational institutions.
The application period for apprenticeship training in partner companies begins in January 2023. Applications are submitted through the student's educational institution. The application period for apprenticeship training concludes in February 2023. The apprenticeship program commences at the beginning of April 2023.
Chemical Industry Federation
Senior Expert, Competence and Attraction Anni Siltanen, Phone: +358 44 562 5991, anni.siltanen(a)kemianteollisuus.fi
Expert, Competence and Attraction Hanna Hyyryläinen, Phone: +358 44 296 3394, hanna.hyyrylainen(a)kemianteollisuus.fi
Director, Work Life Minna Etu-Seppälä, Phone: +358 40 778 0182, minna.etu-seppala(a)kemianteollisuus.fi
Industrial Union
Director of the Chemical Sector Toni Laiho, Phone: +358 50 303 9272, toni.laiho(a)teollisuusliitto.fi